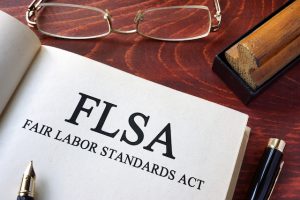 The employment attorneys at Nardone Limited regularly assist our clients with labor and employment issues, such as Department of Labor ("DOL") compliance, as well as guidance on preventing and responding to discrimination and harassment charges filed with the Equal Employment Opportunity Commission ("EEOC") and the Ohio Civil Rights Commission ("OCRC"). Our employment attorneys also regularly update clients on news, events, and changes in law as it relates to labor and employment issues that may impact our clients.
The Supreme Court Ruling
     Recently, on April 2, 2018, the U.S. Supreme Court issued a ruling in Encino Motor Cars, LLC v. Navarro, that will have an ongoing effect on employment law for years to come, and signals that the Court is further moving towards a pro-employer shift in its rulings. A link to the full ruling from the Supreme Court is available on the Supreme Court's website. In summary, the Supreme Court ruled in the Encino case that any employee exemption from overtime under the Fair Labor Standards Act (the "FLSA") rules must be viewed broadly in cases where an employee is arguing that they do not fit within a particular overtime exemption. The Encinco case involved current and former service advisors that worked in car dealership arguing that they should be paid overtime. The employees in the case argued that they were not subject to the FLSA overtime exemption for "salesman, partsman, or mechanic primarily engaged in selling or servicing automobiles, trucks, or farm implements." The Supreme Court ruled in the case that the service advisors were primarily "engaged in selling or servicing automobiles," and thus were exempt from overtime requirements.
     Perhaps most interestingly, in reaching the ruling, the Supreme Court moved away from the Court's prevailing precedent that if an employee did not specifically fit under an exemption, then the employee was not exempt. Moving away from that standard, the Court has now provided for a broader reading of exemptions from overtime to be applied when there is a dispute about whether an employee fits within one of the FLSA's exceptions for exempt status.
Takeaways Moving Forward
     The question for employers is: What does this ruling mean moving forward? To be clear, the Encino ruling will not suddenly render large groups of hourly employees as being exempt. But, the ruling may well result in many close calls being read with a presumption towards exempt status applying. For this ruling to apply in an employer's favor, the duties and circumstances of the employee being classified as exempt should closely match the exemption under which the employer is operating. But essentially, under the Encino ruling, it appears that a theoretical tie will no longer be called in favor of the employee on the issue of exempt status. Thus, the Encino ruling marks a further shift by the Supreme Court towards expanding employer's rights.
Contact Nardone Limited
     The Nardone Limited employment attorneys handle a full spectrum of employment law issues, including business disputes and litigation, drafting of employment and restrictive covenants, and consultation on all types of employment law issues. If your business needs advice or representation on an employment dispute before the EEOC, the OCRC, or regarding potential employment litigation, contact one of our employment attorneys. Further, feel free to contact Nardone Limited if you would like more information or consultation regarding any employment law issue.